Christmas cards & gift tags. Half day.
£30 or £45 for adult & child together.
Saturday 2 Nov 10:00 - 12:30 or 2:00 - 4:30
Saturday 16 Nov 10:00 - 12:30 or 2:00 - 4:30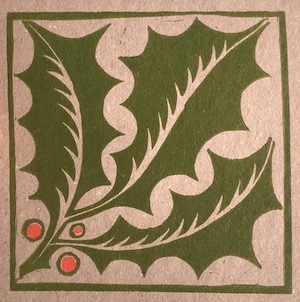 You will take home a variety of handmade Christmas cards, gift tags and envelopes that you have printed using ready-made festive wood and lino blocks. You will be able to experiment with different coloured inks and papers. There will also be a demonstration of how to make a linocut block so that you will be able to design your own blocks for printing at home. This workshop if suitable for all levels of experience.
Refreshments. Tea, coffee and homemade cake are provided.
Course materials. All materials are included.
What to bring. Wear old clothes. Apron