Linocut Printmaking. 2 Days. £160.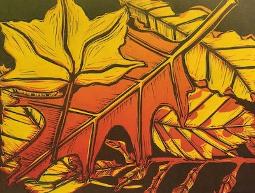 During this 2 day workshop you will learn how to make a series of multi-coloured linocuts based on your own design using either the reduction or the multiplate method whichever is most appropriate. These can be framed for the wall or used as cards.
Day 1
We will discuss the strengths and limitations of designing for a linocut , the different methods of making linocuts and look at examples.You will then learn how to safely use the different linocut tools, and which tools are used for which type of mark. You will then cut a small sample linocut to explore the range of marks that can be made. Inking up methods will then be demonstrated and explained. With your sample for reference you will draw out a design for a 2 colour linocut and learn how to transfer this design to the lino. You will then cut the design and be shown how to use a registration board to register paper and plate in order to achieve accurate multiple overprinting. You will then be able to start printing a series of first colour prints.
Day 2
We will look at and talk about the printing that has been done on the previous day and talk over the next stage. This will involve some more cutting from the lino of the previous day or cutting a new plate, mixing colours and printing a second colour. Depending on time and inclination it may be possible to cut and print a third colour. We will then gather our prints together to enjoy and discuss what has been made!
Timetable
10.00 Arrive
11.30 Coffee
1.00 Lunch
2.30 Tea
4.00 Finishing up.
Refreshments. Lunch (homemade soup, bread, cheeses, fruit) and tea, coffee and homemade cake are all included. Please let me know if there are foods that you need to avoid.
Accommodation - please contact me for information about places to stay in the area.
Course materials. All materials are included.
What to bring. Wear old clothes. Apron