Linoprinting with stencils.
Thur 2 & Fri 3 Jul 2020. 2 Days. £160.
* if you prefer, you may contact me to book a place via the contacts page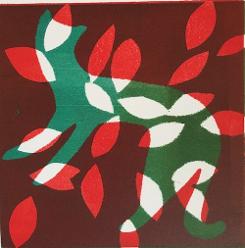 This method involves printing with an un-cut piece of lino that is then masked out with paper or other materials. This is then printed once (or sometimes twice) and layers can be built up to create colourful textures and patterns.
The method is an opportunity to freely experiment with colour.
Day 1
basic colour-mixing theory and how to mix

both opaque and transparent ink.

discuss a range of papers that can be used for printing and their different qualities.

demonstration of inking up a plate in different ways including blend-rolling and using small rollers to introduce several different colours in one layer.

how to cut out and use stencils .

inking and printing a series of first colour prints both plain and using stencils.
Day 2
begin overprinting the first coloured prints from day 1 again using a variety of made and ready-made stencils.

This will result in a wonderfully rich range of colour and pattern.

We will then gather our prints together to enjoy and discuss what has been made!
A relaxed and experimental workshop that teaches a new print process that can be used on its own or combined with a linocut.
Timetable
10.00 Arrive
11.30 Coffee
1.00 Lunch
2.30 Tea
4.00 Finishing up.
Refreshments. Lunch (homemade soup, bread, cheeses, fruit) and tea, coffee and homemade cake are all included. Please let me know if there are foods that you need to avoid.
Accommodation - please contact me for information about places to stay in the area.
Course materials. All materials are included.
What to bring. Wear old clothes. Apron