Multiplate Linocut Printmaking.
2 Days. £160.
Fri 19 & Sat 20 June 2020
* if you prefer, you may contact me to book a place via the contacts page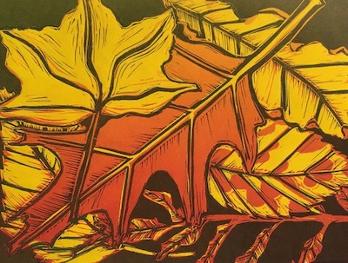 A multiplate linocut is where more than one plate is used to build up layers of colour. This allows increased freedom to experiment with colour, the quantity of prints that you make and to take advantage of additional colours created where plates overlap.
This workshop will show how to:
Consider the advantages/disadvantages of the method.

Ideas to consider when designing for this type of linocut.

How to cut lino.

Transfer your design accurately to several different pieces of lino.

Cut your design into each layer of lino accurately and safely.

Types of ink (both opaque and transparent) and which paper to use.

How to mix colour.

Inking and printing methods, with and without a press so that you can continue to make prints at home.
You will repeat this process for 2 or more layers of lino until you have a series of prints in varying colour combinations. You can take your plates home and continue to make further prints with them.
Information will also be given on types of ink,registration methods, paper and tools available..
At the end of the course you will have made a small edition of coloured prints that can be framed for the wall or made into cards.
Details of materials suppliers will be available so the you can continue to make prints at home.
Timetable
10.00 Arrive
11.30 Coffee
1.00 Lunch
2.30 Tea
4.00 Finishing up.
Refreshments. Lunch (homemade soup, bread, cheeses, fruit) and tea, coffee and homemade cake are all included. Please let me know if there are foods that you need to avoid.
Accommodation - please contact me for information about places to stay in the area.
Course materials. All materials are included.
What to bring. Wear old clothes. Apron