Do-Your-Own-Work day. £31.85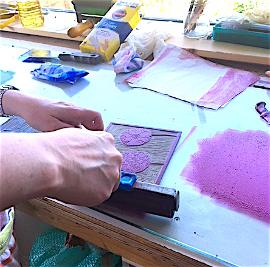 Many people have asked for the opportunity to come and use the studio to practise what they have learned during the workshops. With this in mind I am trying out a few open studio days. Although I will be in the studio, to make sure that you know where the materials are and how to use them, there would be no formal instruction and it would be a chance for you to use the facilities, materials and space to develop what you have learned.
This day is only open to people who have already come to a workshop.
Cost : £30 (+ booking fee) per day (10am to 4pm) including coffee/tea and all materials except papers which will be available at cost price. Maximum of 6 people.
Please bring some lunch and an apron.